Hi,
I bought a used 150 Gallon off of craigslist, which is 48" Long x 24" Deep x 30" High.
That now makes my collection a 150 Gallon, 90 Gallon, and 65 Gallon. And I am only 17
.... its gonna suck when I move out lol.
Specs!
4x 54W T5HO Bulbs @ 5000K.
Fluval 304 + Rena XP3
~120 pounds of Eco-Complete
Penquin HOB Filter
This is how it looked when I got it:
I use Behr Stain in a very dark brown color... almost black.
Now this is what it looks like: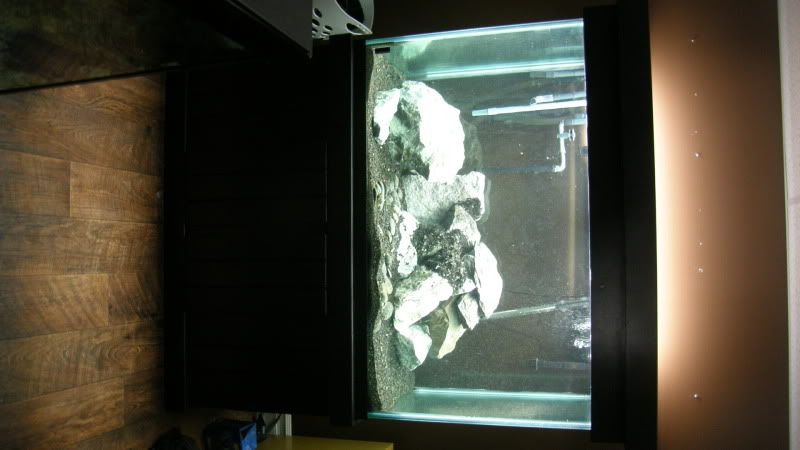 As you can see, I foamed up the bunch of rocks in the middle so that they will never fall. I then put aquarium safe resin/glue on the foam, which I then put on some Eco-Complete so that plants can get some nutrients when attached to the rock for hopefully, better growth. I also created a caves for the females to get in when they get so they aren't constantly harassed by the males
.
I want to make the tank fairly heavily planted. With lots of easy-growing moss on the rocks. Hope to make it look like rocky jungle.
I, just yesterday, picked up 13 Burundi Frontosas from kodak. They are beautiful and not shy. He still has some left
. They are currently @ 1.25 - 2.0" big. I will take a video and a few pictures later on today
.
I would like people's input on what are nice looking/growing low to medium light plants.