Well here is my long a waited saltwater tank.
Just thought I would give a bit of a story behind this tank:
This tank is only 175 but it is very heavy and hard to move. The reason being is that this tank is 31" wide and 26" tall, it's like a cube or square or whatever you want to call it shape. This tank will not fit through your regular doorway. At the sellers house we tried to go out the back and that did not work.....soooo we just took her front door off.
The used a dolly to move it. I was just me, my dad and my grandfarther. It was SO hard to move this tank! and the heat did not help.
So anyways we got the tank home moved it back onto the stand.
As for now the tank is sitting empty, the live rock will be fine in a rubbermaid container with heaters and powerheads. I decided to leave the tank dirty and not clean it b/c it has a lot of good bacteria in it that will help me start it back up again. I will tidy it up a bit but it will look great once it's all filled up.
NOW what done:
As of right now the tanks sump is all hooked up and the plumbing is done, which I did myself....pretty pround.
There is no water in it right now but I did put some water through just to make sure nothing leaked. We rested the canopy on top and the lights. Tomorrow I will finish the sump and set the lights up,heaters etc....
I WILL post the specs tomorrow but I'm to tired right now.
The tank came with everything right down to the glass magnet scrubber and 12 books on salt stuff. I went out and bought a 160g thing of IO but the tank already came with a bucket and more bags of salt. Came with a big container of prime too. There were also two small hermit crabs in there but not sure what happened to them, they might turn up one day.
Anyways here are some pics!
Here is what the tank looked like at the sellers house, BTW I was thinking is this live rock really alive, it has lots of coraline algae on it, it also has some type of moving plants this dissapears into the rock if you get close to it.
It doesn't seem so live to me. Anyways I should note that I will be getting another 80LBS of live rock in the next week. ALSO I will be looking for some used live sand b/c there is not enough substrate in the tank, but that will be in a few days.
In the middle of taking down the sump at sellers house: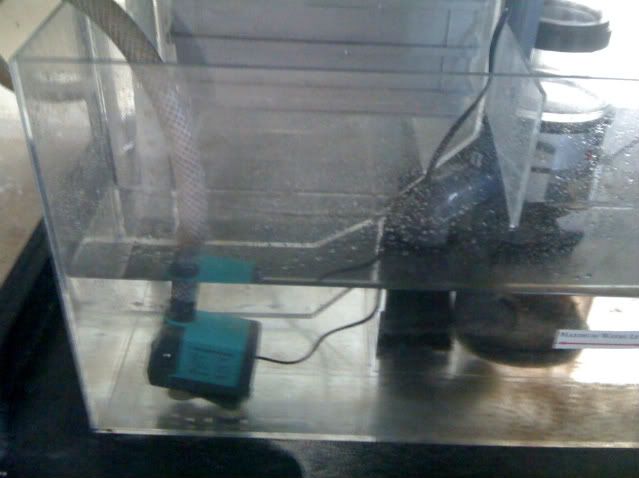 At my house:
Lights: Three fixtures that hold 4 bulbs each, came with extra bulb.