Some of you may know that a little over a year ago I purchased my dream tank from Rogers Aquatics. After a year in storage and toying with the idea of selling it due to having no space for it (long story), we finally bought our first townhouse and it had an awesome spot for the 180 in the living room!
The plan is to house my current African cichlids plus a bunch more and attempt to grow low light plants like anubias + java fern and possibly some vals, hygro and an amazon sword. I won't be using co2 and I'm trying to avoid heavy dosing of ferts for them. We'll see how they do and adjust accordingly.
Here are the first pics of it with my new lighting, dry with sand (Don't mind the grainy pics, I'll take better photos with my DSLR soon). I'm heading out this weekend to buy some new rocks and I still have a nice piece of manzanita wood to add that I ordered in from Tom Barr back when I first got the tank. Once I've picked up the rocks, I'll be filling it with water and going to pick up the Africans in my 90g from it's temp home @ the mother-in-law-to-be's house.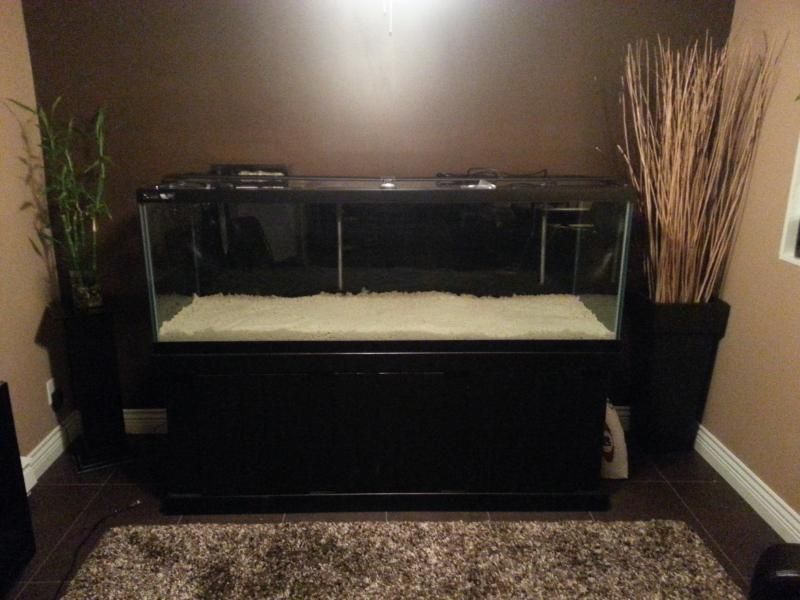 Equipment list:
Tank:
Aqueon tank 72x24x24 180 gallon tank and stand
Lighting:
Current USA 36" (x2) Freshwater+ LED's
Current USA LED Lunar moonlights (not shown in pic)
Current USA Dual ramp timer/controller
Hagen GLO T5HO fixture with 2 x 54W Giesemann bulbs (Aquaflora + Pure Actinic)
Filtration/Circulation:
Eheim 2080 Canister
Eheim 2075 Canister
2 x AC110 HOB filters
2 x Hydor 1500 gph powerheads
TMC Vecton 6 25watt UV (not installed yet)
Heaters:
2 x Eheim 300watt
Current stock list:
Nimbochromis venustus
Nimbochromis fuscotaeniatus
Cyrtocara moorii
Cyphotilapia Frontosa Burundi
Dimidiochromis compressiceps
Copadichromis borleyi
Protomelas fenestratus
Protomelas sp. "Steveni Taiwan" (Taiwan Reef)
Placidochromis sp. "Phenochilus Tanzania"
Placidochromis electra
Aulonocara jacobfreibergi "Eureka"
Aulonocara jacobfreibergi (Undu Reef)
Aulonocara maulana "Bi-color 500"
Aulonocara stuartgranti (Usisya)
Aulonocara sp. "Stuartgranti Maleri"
Aulonocara sp. "Lwanda"
Dragon's blood peacock
Metriaclima sp. "Dolphin Manda"
Cynotilapia sp. "hara" - this could also be Cynotilapia zebroides (Jalo Reef)
Pseudotropheus socolofi (Albino)
Pseudotropheus sp. "Acei" (White tail) x 4
Pseudotropheus sp. "Acei" (Yellow tail)
Labidochromis caeruleus x 4
Synodontis petricola x 8
Pictus Catfish x 3
Bristlenose pleco x2
L200a High Fin Green Phantom
L204 Flash panaque
L191 Dull eyed panaque