Discussion Starter
•
#1
•
Hi all,
First time starting a tank journal. I've recently closed down by 35 22"x22"x22" planted cube aquarium. I wasn't going to start this project until after April as my
wife is expecting with our first child then, but I found some free time during this Christmas break and I decided to set up this aquarium with the go ahead from my wife
I would like to share my journey of this aquarium with everyone on this forum.
Took a few photos on my latest adventure.
The specs of this aquarium setup are:
120 ish gallon aquarium 48x24x24" bought off my friend who's also on this forum.
TEK T5HO 8x54watt light fixtures, with 4 giesman aquaflora and 4 mid day tubes
Eheim 2080 Filter
Eheim 2075 Filter
10lbs CO2 tank with a 3 way manifold on 24/7 with 2 diffusers in this tank
6 bags of ADA Amazonia substrate
Some background:
I've fairly experienced with planted aquariums and have been successful with growing plants except my aquascaping sucks.
I've had planted aquariums since 1996 and the usual method I use is high light, high co2, high water flow + heavy substrate fertilization.
My cube aquarium is almost algae free except for the occasional BBA on the filter intake tubes, which I usually remove manually pretty easily.
Here's the start.
Here's the last images of my cube aquarium before tearing it down, most of the plants are out grown and needed a trim.
Here is a front tank shot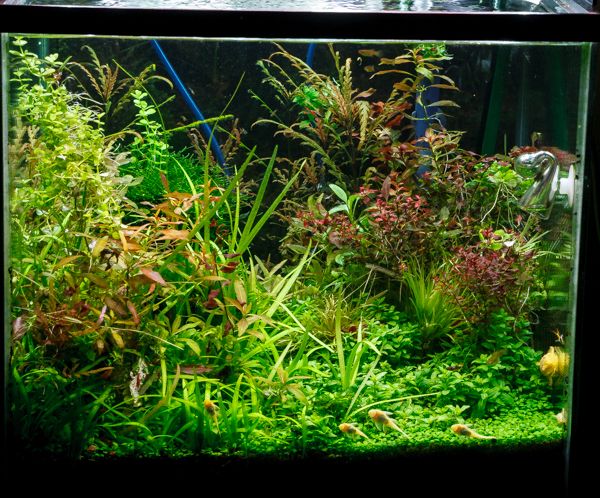 Here is the tank with the ada like cabinet my friend build for me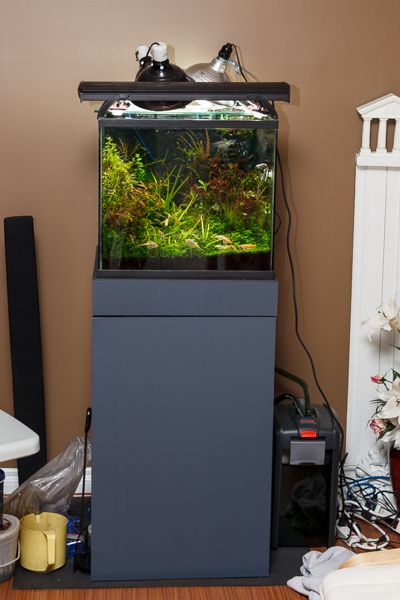 As you noticed the lights are a funky mixture since I've sold off most of my lights for this aquarium and I'm left with 46watt CFL's (which work great!)
Here is an image of my cube aquarium emptied