Discussion Starter
·
#1
·
Hello BCA!
Back in November 2012, I started my first planted tank. A 6 gallon Fluval Edge:
Then, having filled my quota of one tank at home, I set up a 20 gallon long at work.
My boss, having enjoyed my 20 long, has asked me to set up a couple of other tanks around our school and this 23 gallon long is the first of them. Many thanks to Shiyuu for the tank and Pat and Charles for the rest of the equipment and plants. Still have some plants on order from ThePlantGuy.org.
The idea here is to do a sort of dutch style scape, but with a little hardscape and a nice HC carpet extending from the back left through to the front right like a triangle. As always, plans change as you go along, so I would love to hear some suggestions. I'm also going to do a Dry Start in order to get a nice healthy HC carpet and then see if I can maintain the carpet in a non-CO2 setup. I have had some success doing this with UG. Will be interesting to see whether it works with HC.
Equipment:
23 gallon long 36x12x12
Beamswork 0.3 watt/LED light
ADA Malaya substrate
Flora:
HC
Lilaeopsis mauritiana
Rotala sp. nanjenshan
Ludwigia arcuata
Echinodorus 'Aflame' - from another project
Egeria Densa (on order)
Pogostemon stellata (on order)
Pogostemon erectus (on order)
Ludwigia brevipes (on order)
Juncus repens (on order)
Still looking for:
Ammania sp. 'Bonsai'
Pogostemon helferi (Downoi)
If anyone has either of these, I'd love some trimmings or offshoots. Would pay and pick-up, of course.
Fauna:
TBD, but probably some shrimp and shrimp compatible fish. Maybe CPDs and otos. Suggestions welcome!
Now for some photos.
Tank with substrate: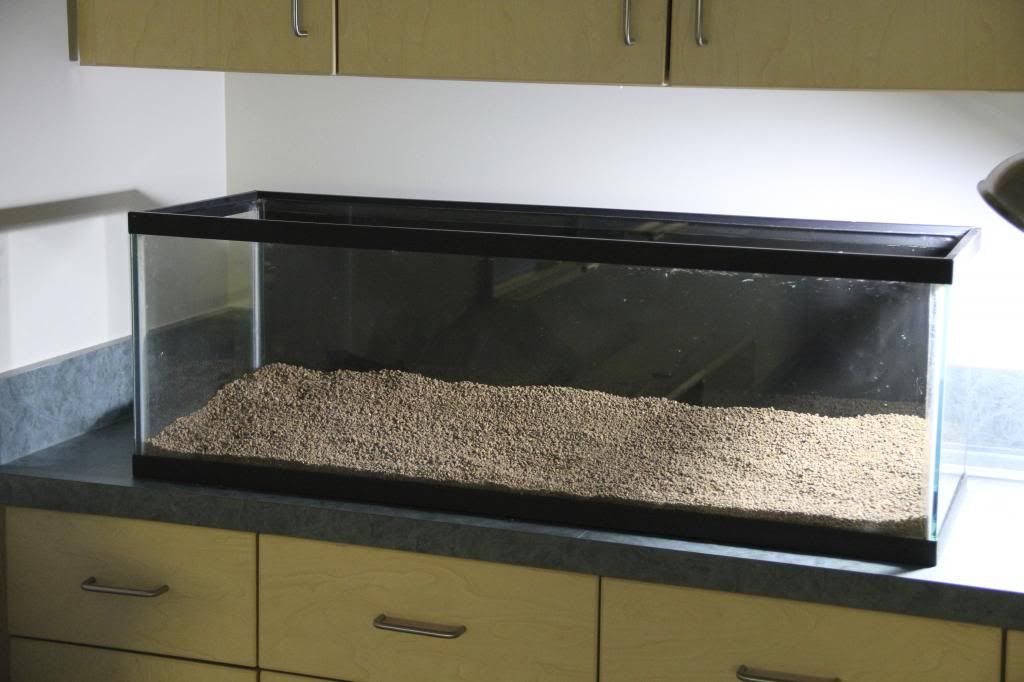 Hardscape and initial HC and Lilaeopsis mauritiana planting. A lot of die back and melting of the Lilaeopsis mauritiana, but it is putting up some new, healthy-looking shoots now:
I had some white fuzzy mould or fungus coating some of the HC. I'm guessing this came from improper washing of the portion. The AquaFlora plants come in a fertilizer. I'm guessing that caused the mould. I tried drying the plants out a little in case it was excess moisture that was the cause, but the mould kept spreading, so i gave it a good spray with some clean water effectively rinsing the fertilizer from the HC and that seems to have fixed it right up.