Hey guys, as many of you have seen I had some Angels breeding in my community tank. Unfortunately that tank also houses other Angels as well as barbs and the fry quickly became food for the rest of the community. I have just purchased a bowfront tank that I have set up as a breeder tank for the two paired angels.
I have decided to go with eco-complete for the substrate because I had a tub full of it just sitting here un-used. Plus I will be planting the tank eventually so that's a good place to start.
The tank came with an AC30 HOB and a 50w heater that i have replaced with a 250 w from another tank (not to make it hotter, but the 250 has better temp control) It also came with a standard 15w single bulb (8000k) which will have to be upgraded before i try to plant it.
First think i did was find a place for the tank... now it did not come with a stand, but I had my old tool box sitting around which seems to make not a perfect stand, but a pretty cool looking one!
I needed to do a water change on the 77 tank so i just siphoned the water directly into the 26 to try to keep the water parameters as close as possible so that the pair continue to breed in their new home.
On the advice of Rick at IPU i boiled the old media from the filter before cycling the tank. I then added 2 capfuls of stability and will continue to add 1 capful a day for the next week as per the bottles instructions. The tank is very basic and plain right now, but i wanted to make sure the Angels were in there before they decided to lay eggs again.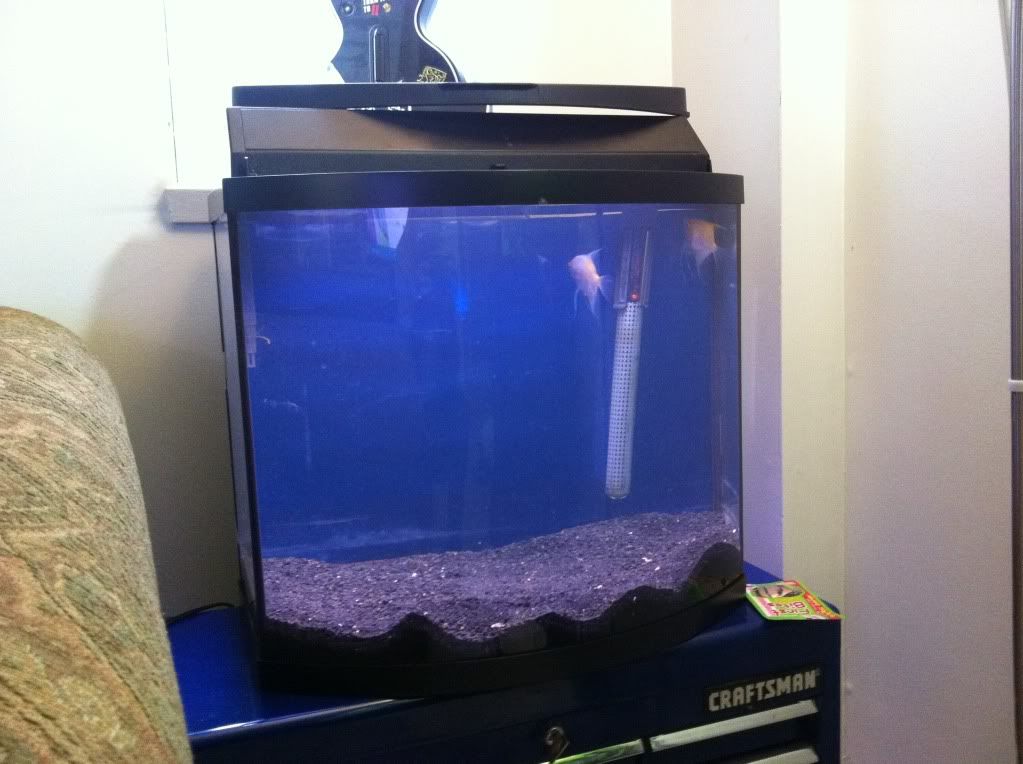 I have already gotten a package of first bites in preparation for the fry.
Now previously the Angels have laid their eggs on a leaf from my aponogeton plant. Will they lay on any flat surface like the walls of the tank or will i have to provide a place for them???
Thank you for looking.