Hi everyone,
Here's an abridged version of my original build thread. I began with the Xmas 2009 purchase of Marius' 400 gallon Tenecor acrylic tank. It was in good shape with a couple of minor scratches which I will buff out. I would say it was in 7.5/10 condition. Not bad for a used acrylic. A beast of a tank, Marius helped me move it into my garage...where it had stayed for about 3 months. The dimensions are 96Lx36Dx27H and two predrilled corner overflows.
I originally was looking for a tubular steel stand but was unable to find someone to make one for me that was affordable. Thus I decided to build one for myself out of wood. It wasn't too hard to do if you could borrow the right tools.
This pile of wood: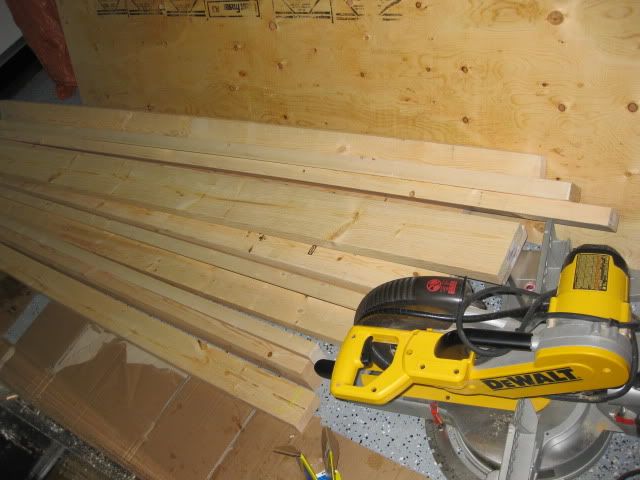 Becomes this:
I put some plywood down on the top and on the bottom to form the base for all the filtration hardware. I was originally just going to paint the stand with a couple of coats of Kilz sealer but happened upon a cheap box of self adhesive lino. Easy to apply and handles spills easily. You can see the stuff in this pic of the stand: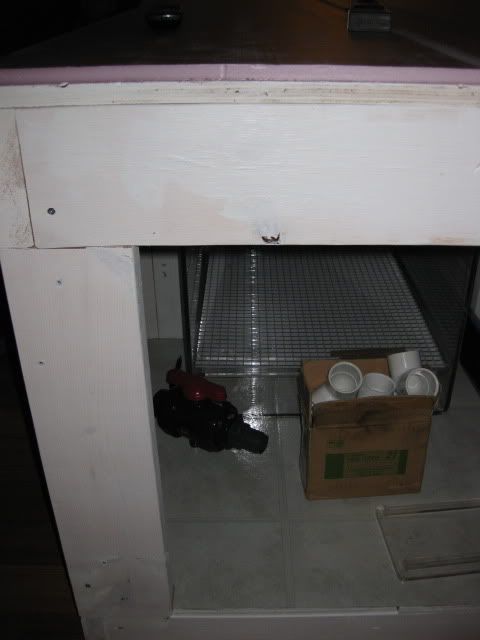 The next big hurdle was to get a couple of guys to move the beast into the room. It was heavy, but not that bad...just awkward to get into some spots due to space limitations for turning, etc... Here it is in the room: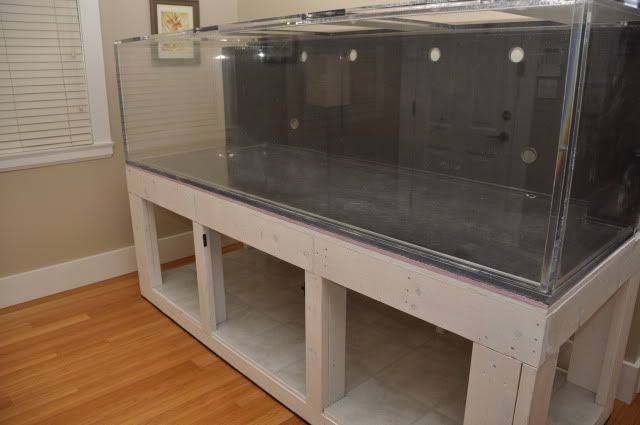 Now the hard part. All the plumbing has to be laid out and then glued together. Not having done plumbing before and with the fear of 400 gallons of water leaking, I was pretty paranoid about this part. I just decided to take things very slowly and take my time rather than rush. I've installed ball valves where I can to help isolate problems if I run into any and to help with servicing. For filtration, I decided to go with a custom made sump/wetdry filter. Patrick from Canadian Aquatics hooked me with up with a custom fabricator and he produced this 80 gallon acrylic wet dry sump:
For the return line from the wet dry filter, it will be 1.5" PVC going through a two hot tub jet bulkheads. I had to drill a number of holes in the back of the tank using a diamond bit. The drilling wasn't hard to do, just somewhat time consuming in order to keep the holes nice and clean.
To accomodate the drains from the overflows, I had to create a couple of cutouts for the plumbing that would clear the stand structure. 1.5" plumbing is pretty bulky and it was pretty tight in there. I've also included a couple of shots of the plumbing as well to give you an idea of what I'm trying to do.
If you notice on the pics of the bulkheads, there are a few more than normal, that's because I'm going to be plumbing in my 2 FX5's that I'm currently running in my other tanks. This is to provide additional mechanical filtration. In fact, I'm just going to load those up to do only mechanical. The sump should easily take care of the bio needs of this tank.
to be cont....