Discussion Starter
·
#1
·
I have been waiting patiently for my topsoil to be done mineralizing...and finally I figured it wouldn't do any more good to do another wet/dry cycle. After screening it several times in the past two weeks it had been reduced to a nice fine powder...it was time to go!
Here is the very first week when the topsoil looked like mud: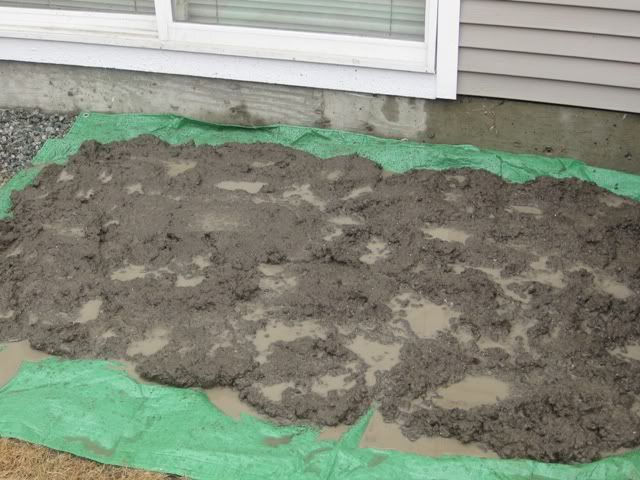 While waiting for topsoil to be finished I acquired a used 48" 2*54w Hagen Glo fixture (and lights!!) along with a RENA XP3 filter. I've been really happy with the 24" 54w Glo on my 25g so I know that it will be plenty of light for my plants. I also picked up 10 bunches of inexpensive stems from King Ed's and through them in the tank a week ago in preparation for the big day.
I started off yesterday morning by testing out the water quality...all good...so pumped out 20g of water to a large rubbermaid container and started netting all the residents and moving them over. Actually my 14 year old was doing the netting while I was mixing up a batch of mineralized mud for the tank bottom. My 12 year old was busy rinsing out 100 pounds of nice tan filter sand that we just picked up from the local pool supply outfit.
It took a long time for all three of us to be done our respective jobs, I think I had the most fun mixing up the mud, I was elbow deep in a bucket of mud having a blast. When my older son was done netting out the fish we did a quick drain out and wipedown of the tank to remove any algae on the glass and scooped out the old gravel. By this time the filter sand was well rinsed and ready to go...
We built up a 1" berm of packed sand around the front and sides of the tank then gently scooped in the mud up to that 1" mark. With a cake batter consistency we used about 4 gallons of mud on a 12"*48" tank footprint. Once the mud was in we gently started scooping in the sand to cap the mud. The front of the tank is about 2" deep (1" mud with 1" sand cap) with a gentle slope up to the bank where it gets almost 2" of sand on top of the 1" of mud. We placed in the hardscape of rocks and driftwood, planted about 20 small portions of dwarf hairgrass that I took out of my 25g, then started refilling the tank with water very carefully to avoid exposing the mud under the sand cap. With the tank 3/4 filled it was time to get the filter turned back on, at this point the water was only slightly cloudy from some dust still in the sand. We were very careful to equalized the temps in the tank and the holding bucket so we started netting the fish and putting them back in the tank. Once they were all back in we poured the water from their temporary home back into the tank and I started re-planting all the stems and some assorted other stuff from our other tank.
Here is how it looks today, 24 hours later. I tested the water and the good news is Ammonia reading 0, ph is 7.0, Nitrites are 0, and Nitrates are 0. I'll be watching for a spike but I don't expect any problems.
The cat is Karl, he likes to watch the fish swim back and forth. He used to paw at the tank but he finally learned that he can't get at them.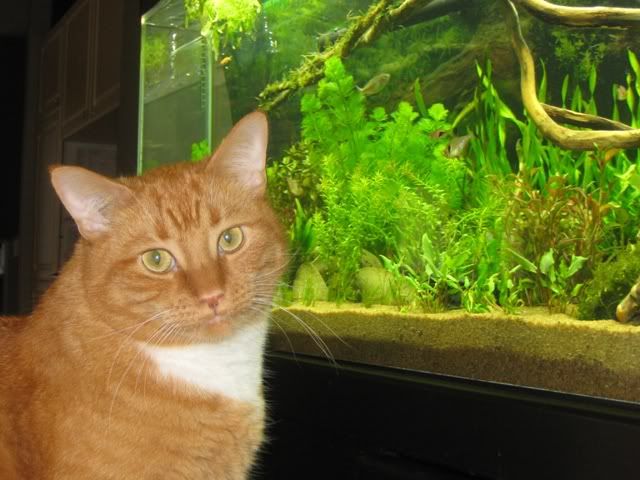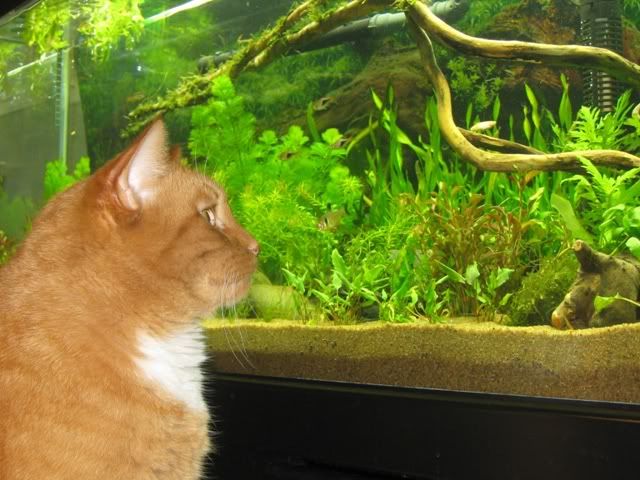 I could use a hand with an ID on these two stem plants: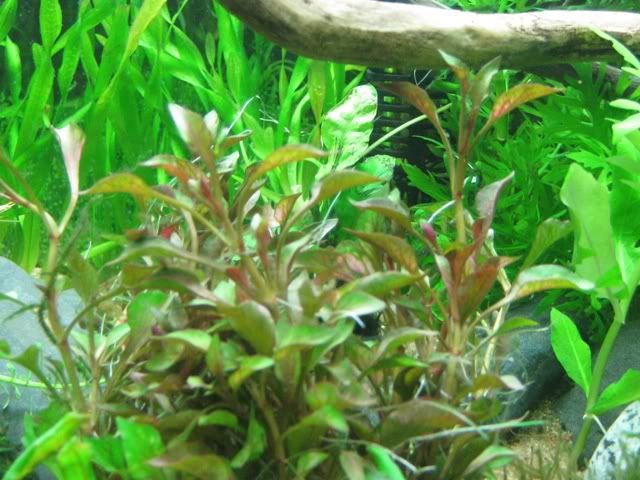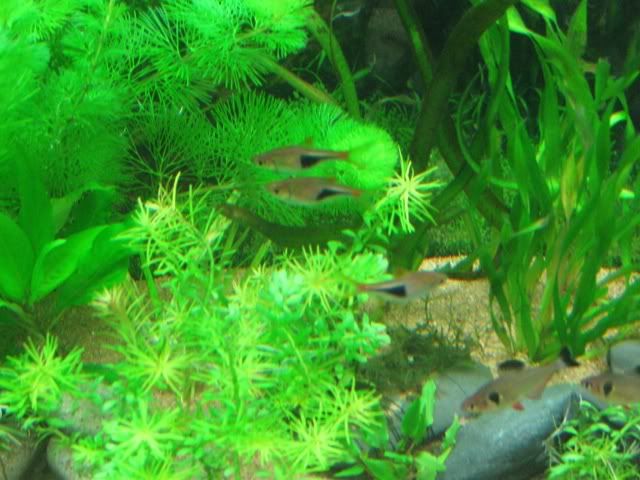 And a couple of shots of some of the residents: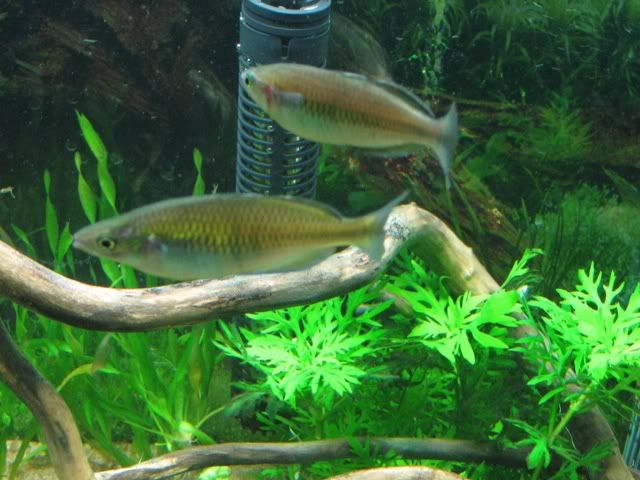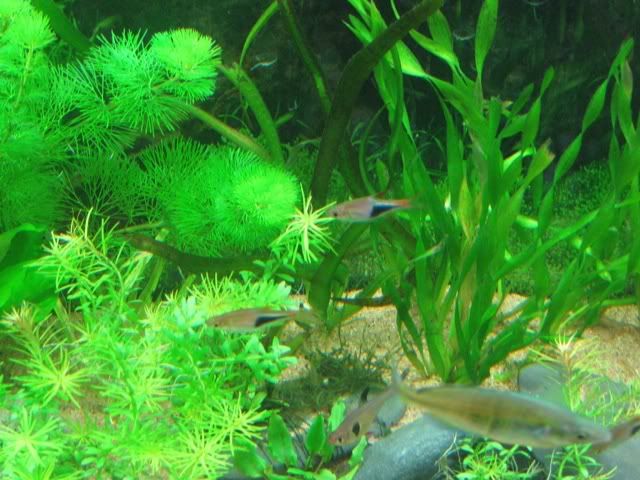 Now that the hard work is done we'll let the tank settle in for a few weeks, I'm using DIY CO2 but may upgrade to a pressurized system soon. I am going to be dosing with Seachem Iron, Potassium, Nitrogen, Flourish, as well as a small dosing of Metricide. I have an order in for dry ferts from Aquaflora and I'll go with a modified EI regimen. I'm hoping that as the plants start to root and take advantage of the mineralized topsoil that I'll see really strong plant growth with a lighter fert regimen and more stable water parameters.
I'm also planning to add some new fish...thinking maybe some SA or CA plant safe smaller cichlids, or angels. My wife and I agree that some species with some character.
Ryan in Richmond