Discussion Starter
•
#1
•
This tank has been up and running for about 2 weeks. All of these fish were recently in a 30 gal but that was just getting too small!
Equipment:
55 gallon 48x13x21" tank
Stock stand
2x Powerglo lights (21" each I think)
AC 70
Biowheel 350
Elite 300w heather
Elite 100w heather
Select aragonite sand mixed with crushed coral
About 80lbs of Mexican Bowl Rock
A few random shells
Water:
Buffered with Epsom salt, kosher non-iodized salt, baking soda
pH: 8.6-9.0
Temp: 82 degrees
Weekly 50% waterchanges.
The julies are breeding and have been for about 6 months now. I'm hoping the shellies will start now that they have some real-estate.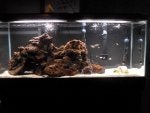 Darn fish are so hard to take pictures of =P