I've decided to go into Nano reefing after almost a year of freshwater 
Reasons:
- It's in my room
Specs:
WATER: RO water (5 stages) 0ppm with TDS , will add resin soon. (resin added) 5.0 ph from RODI (aquasafe II)
TANK: ADA 60 P (~17 gallons) drilled
SUMP: DIY 10 G sump with glass baffles (refugium with red macro algae)
SKIMMER: Cadlights pipeless protein skimmer
LIGHTS: 90W PHAROS LED with controller from aQled
REACTOR: cadlights nano reactor with vertex pro-bio pellets
POWER HEAD: Vortech Mp 10 es
RETURN PUMP: aquaclear 50 powerhead
PIPES: PVC ¾"
Bean animal style overflow
Having watched numerous videos on how to drill a tank, I went ahead and drilled my old 10 gal tank for practice (it had chemicals in it before). Drilling the ADA tank itself is a lot scarier as the glass is denser and confirming that yes ADA tanks are pretty heavy and top tier.
FISH: Potters Angel, Mystery Wrasse, False Percula Clown, yellow watchmen goby.
CORALS: blue tipped green elegance coral, galaxea, red ricordeas, green magician palys, green leather coral, torch coral, flower pot coral, meteor shower, purple mushroom
Drilling the tank:
- I didn't create any dam to keep the water in as I found that the water out of my hose is cold enough to cool the diamond coated drill bit. (slow water flow)
- drilling speed will have to start out slow then high to avoid chipping the glass. I started the drilling at an angle and found it to be sufficient with steady hands.
- slow and steady wins. Drilling a normal glass takes 1/3 of the time of drilling the high clarity glass of ADA (note* it is not starphire) so be very patient.
- Practice first!
- Finally, don't attempt to drill tempered glass!!
Making the stand: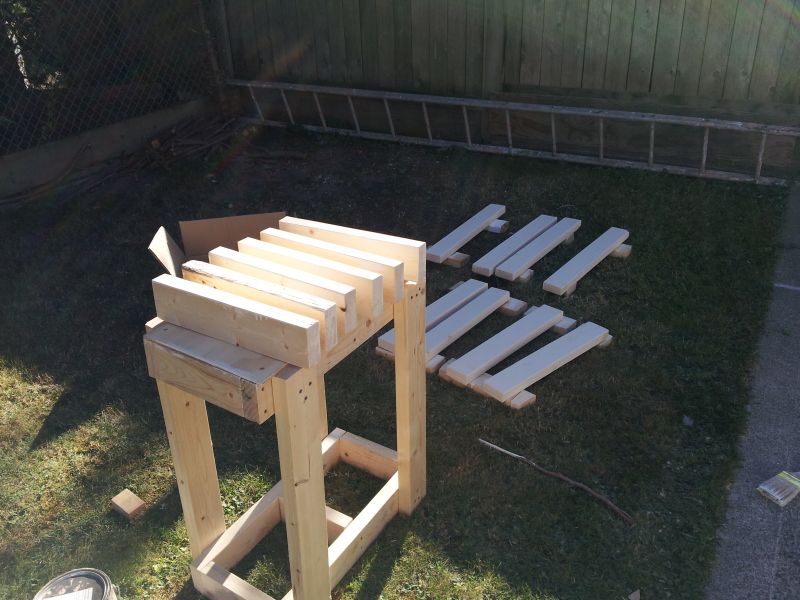 - I went to buy some 2 by 4s and made the stand. I didn't have the tools to make an ada style stand, but heck, it turned out pretty good considering that I only used a handsaw and a clamp.
- Acrylic waterproof paint for water vapors
Making a glass overflow box: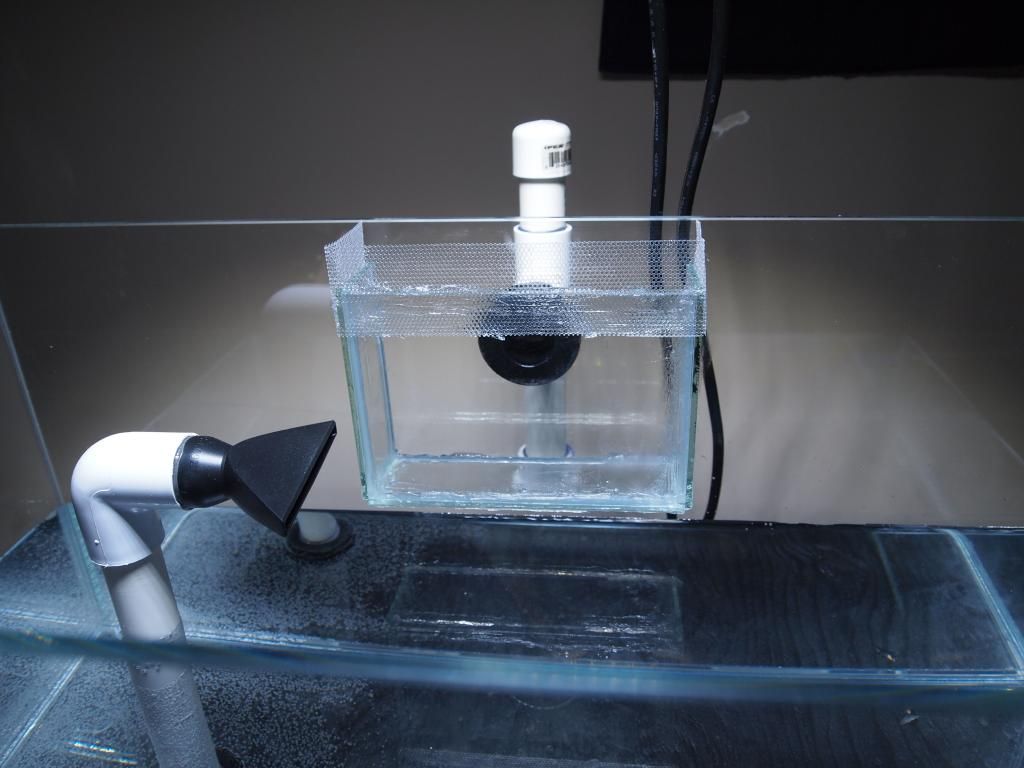 - There are no small overflow boxes out there so I used my small 3g quarantine tank to make the box.
- scoring the glass and breaking it to desired pieces was pretty easy, so don't be too afraid to make your own .
- At first I was considering acrylic but more people were against acrylic on glass for overflow boxes than acrylic baffles (for a good reason). Acrylic does not adhere to silicone, so with time the box will leak and alter the flow. (It might flood with too much intake)
Making the sump:
- I will soon get glass baffles to make another more proper sump (soon to be future project)
- do not cut your acrylic pieces to exact fit your tank. If the piece expands, it can crack your tank. So always make them smaller.
- get a clamp to hold the pieces in place and allow 24 hours (preferably 48 ) to dry. Water test. If you don't have clamps, find a way to hold them in place (books) what not.
- should attach baffle pieces one at a time with one hour drying time for each piece (cleaner, less messy) you could also use masking tape under the silicone and rip it off after for a pro look.
- Silicone should be applied in a WELL ventilated area. Will cause slight nausea and burn many nose hairs upon inhaling it.
Plumbing:
- I got everything I needed from Home Depot. Their PVC pipes ¾" had many elbows, unions, and ball control valve. How you want to set up yours is entirely up to you. Mine is super simple.
Starting the tank:
I got the Carib sea live sand (20lbs) and 22 Lbs of live rock. The water cleared up within an hour. I left the tank to cycle for 3 days with daily drops of ammonia (fishless cycling). The tests gave positive results so I went ahead and introduced my cleanup crew.
There are no algae in the tank yet for them to eat so I dropped some algae wafers. This continued on for three more days.
Within a week I was able to introduce 2 false percula clownfish to the tank. They are very happy right now.
Some concerns: Many reefers suggest a month for cycling. Being a student that spent some time in the sciences, I know that the growth of bacteria and time it takes to multiply. Basically if the majority of your tank is cycled (rock, sand) then you have yourself a cycled tank that will take only a few days for the water column to be filled with the bacteria. It's ALMOST as if you did a 100% water change, but with the help of BIG chunky live rocks and minimal water column, then it can be cycled without a problem. If you got less live rock/sand then of course you will have to wait longer. SO in conclusion, instant cycled tanks for any aquarium is unachievable, unless you are TRANSFERING everything from another hobbyist. (I am so going to receive ill comments for this) haha.
***Please look up new tank syndromes and old tank syndromes (they are worth a read for sure)
Tank to this date has minimal algae, and no hair algae/aptasia (1 month now)
Enjoy!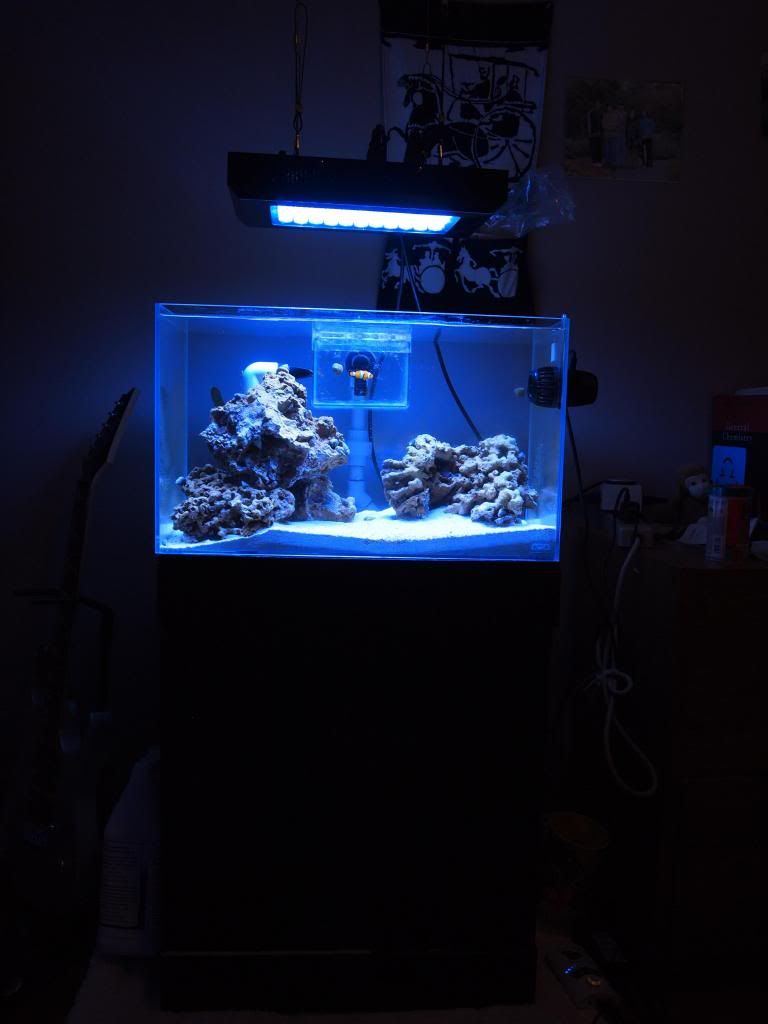 MOST RECENT TANK PICTURE: