With all the months of saving money and help from the very awesome members at BCA. My first planted tank is finally completed. I would like to thank the following members to make this possible, Mykiss, neoh, jobber, wsl, and marko. It saved me a lot of time and money when I'm in school with a pt job.
Pat, the mountain fan & amano I got from you survived through 4 days of 90F with 14 tbsps of salt in my 20 gal long. I got ich from not soaking plants i got from king eds in malachite green prior to planting (my own fault). Just something I wanted to say, they are jacked.
the 14 cherries are hiding, and the cardinals are eating a lot
.
Tank Specs:
20 Gal long Framed from Aqueon
heater: Forgot the name and brand...but it is metal, lights up green when it reaches the optimal temp.
ADA amazonia I with powersand M (penac p,w, tourmaline, bacter 100, clear super)
Fluval 106
Vertex Illumulix Dolce Sole 24"
Coral life lighting with 6700K bulb and Actinic 30" [the led alone was enough but I wanted the spectrum at 6700K for optimal growth with control of yellow hue with the illumilux, it also looks a lot nicer] getting HOT5 would be overkill.
Red Sea CO2 Paintball setup - Canister (20oz) (Do!Aqua bubble counter and music glass)
Drop Checker (Glass CO2 Indicator) from amazon.com I use the fluval chemical indicator and it works extremely well. (too much hassle to make a 4dkh or or whatever solution). Also, adding tank water to the stock chemical is stupid. So don't follow the instructions with glass co2 indicator solutions, you have to use the proper 4dkh distilled water.
Fauna:
16 Cardinal Tetras
2 Oto Cats
4 amano Shrimps
1 Mountain Fan shrimp
12 Cherry Shrimps...Two got sucked in the intake...One I saved when I saw it still lingering between the crevices of the intake, it lived when I freed it. After this incident, I did a mod.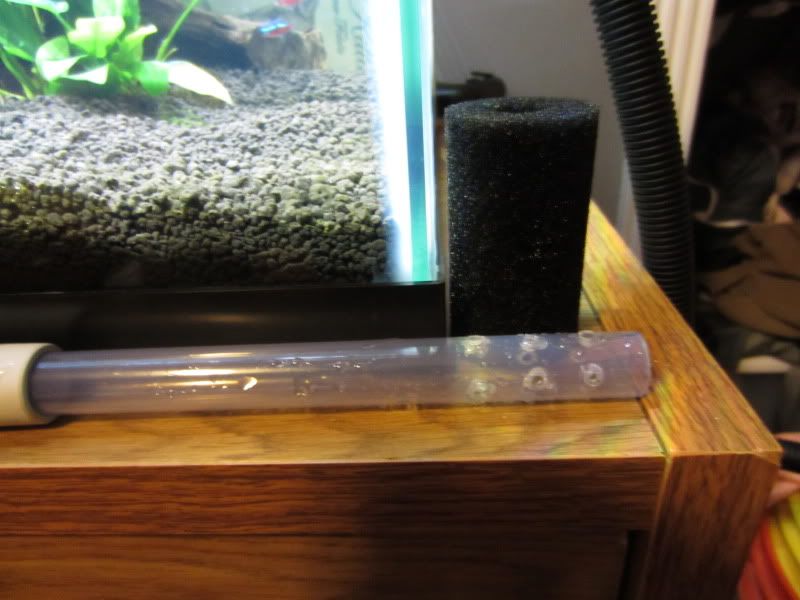 drilled holes with a foam. Took away the stock ball check valve
Flora:
Anubas Nana petite
Anubas (normal one)
Dwarf Hairgrass
Micranthemum unbrosum
Pogostemon stellata
Java Moss
The rest I just picked them up from king eds so I don't know their names :S.
Water Parameters:
DKH and GH are set perfectly for cardinals. (Soft) I don't know the exact numbers but the results of the kit indicates ideal soft water.
Ph. 6.5
Temperature: 78F
The others are very ideal for a cycled tank so I won't include them.
evolution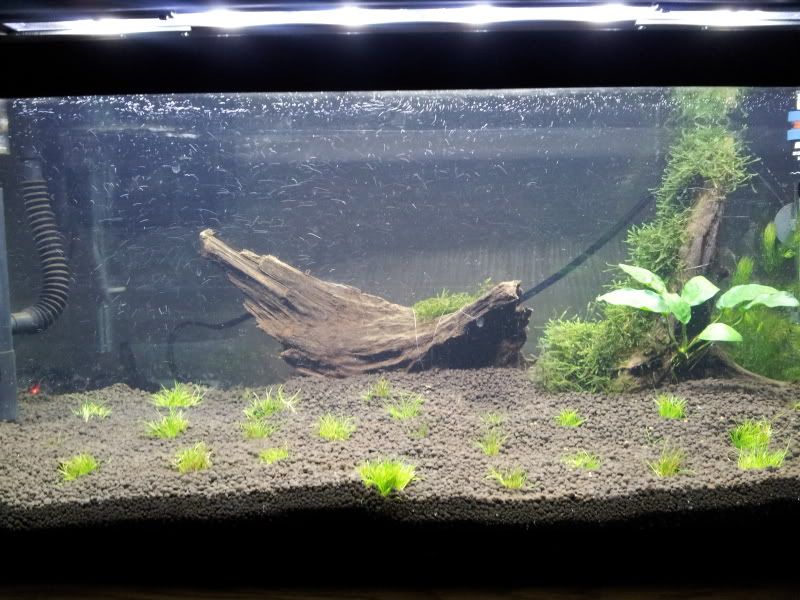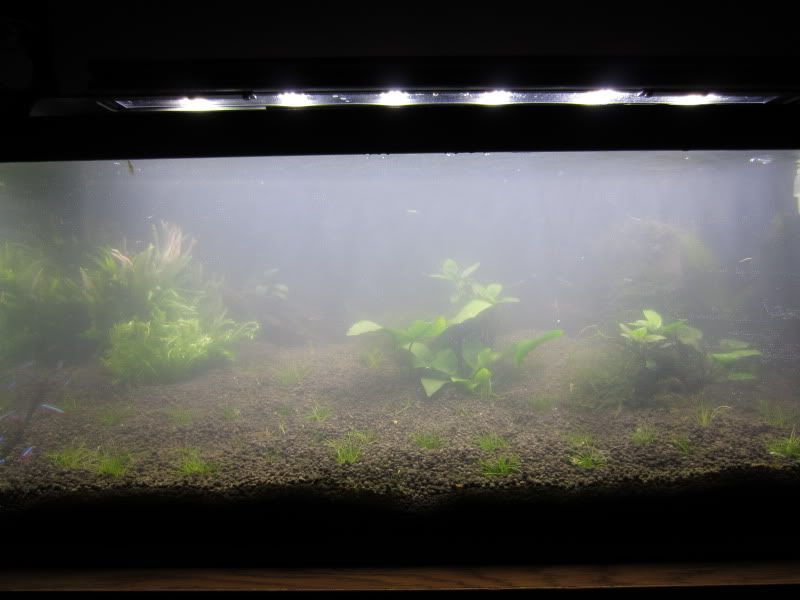 some side shots
My water is still a bit murky. Will take more pics when it clears
. Hope my HG carpets soon
(Jan 31 2012).