Discussion Starter
·
#1
·
I started the hobby last year in October. My expertise is still lacking in comparison to many others at this forum. However, I'm going to try my best and give a review on this new toy.
I decided to purchase the new Fluval 106 canister filter from King Eds, and I can't help but notice the lack of reviews on the 106,206, or the '6 models. I have no other canister filters to compare it with, and other than the fact that this is my first canister filter. I will only be offering my own opinions, hence the title of this review.
Topics to be covered:
Overview of the "improved" claims
Aesthetics
Conclusion
From their site:
Fluval 106 Canister Filter delivers many practical benefits - including better filtration, less maintenance frequency, faster setup, and quieter operation - all designed to make fish keeping more enjoyable. Building on the success of Fluval 05 Series filters, this filter provides enhanced functionality and filtration performance that creates the cleanest, healthiest aquariums ever.
Key features include:
- Improved motor hydraulic performance that reduces maintenance frequency, increases flow rates and head pressure
The water flow and pressure appears to be constant, I base this on the observation of the flow of my CO2 bubbles, and the overall movement of my plants. The 106 model is supposed to be for 25 US gallons, and having it on full in my 20 gal is uprooting my background stem plants (rotundus rotundifolia). I have turned it down to medium as my cardinals don't particularly like the strong current. I imagine it can go up to 30 gal longs and 35-40 standard.
- Enhanced water filtration performance for cleaner, healthier water
The overall clarity of my water has not changed, it is still a bit hazy from before with an aquaclear 50 HOB (with an rena microfiltration pad add-on). Furthermore, the medias offered by the stock portion of the (biological phase, and carbon part) is only a bit bigger than the stock ones from aquaclear 50. It indicates better mechanical filtration but I'm not entirely sure about the chemical and biological portion of it. The space within each compartment leaves room for a second media content which I might consider adding 25% more of activated carbon and those white things for beneficial bacterial growth.
- Better biological filtration, with the addition of Bio-Foam media
Mentioned already
- Sound-dampening impeller design for 8 to 15% quieter operation
It is really quiet, it is almost as quiet as the aquaclear 50, where the sound of your breath can drown it out - well not quite. Haha
- Redesigned impeller cover that's less prone to breakage
I took a look at the impeller cover, it is patented with a rubber like material (might be rubber actually). I hope the cover will be effective if the ball that came with the in-take pipe is not enough to block out bigger debris.Though it mainly serves as a check valve to prevent backflow during cleaning/maintenance.
- Re-engineered efficient priming system for easier starting
This is true, it was really really easy. As easy as pouring water into the aquaclear to prime. I just pumped it a few times and it started to prime.
- Stronger lift-lock clamps for more secure closure
Pretty strong, my friend had a fluval 204, and his was very simple, the new clamps are pretty decent.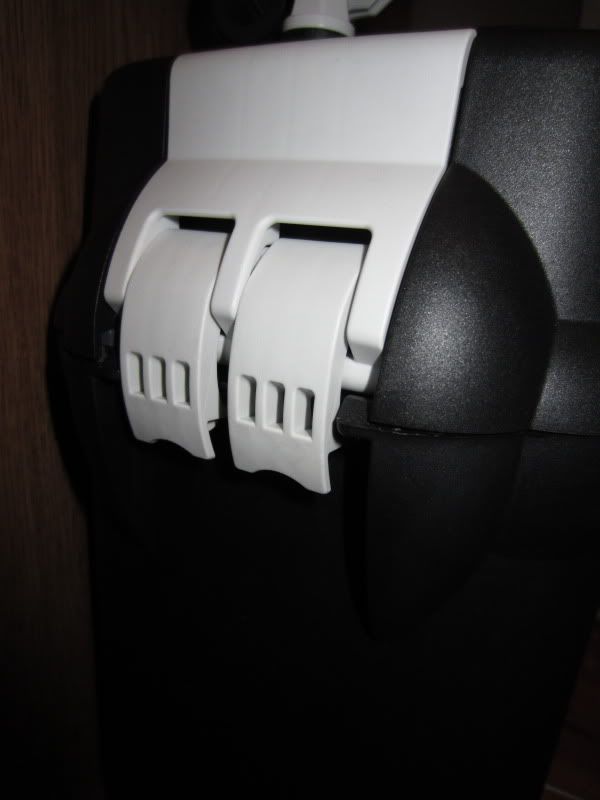 - Hose lock nuts improves security
The hose lock nuts fits snuggly onto the pipes during assembly, I am able to just hold onto the pipes in midair without any spills.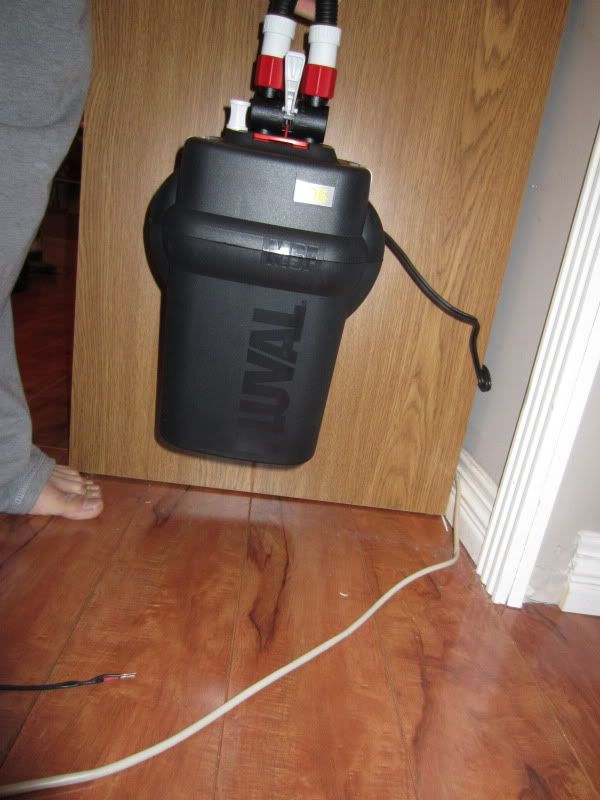 Aesthetics
Overall the Fluval 106 looks pretty sexy. I really like the black and red scheme; it goes well with a framed tank. The intake and outtake heads are opaque, I personally feel that a transparent look would suit it better, might think about getting some glass ones.
Conclusion
I really liked assembling this canister filter. A lot of people have said the water flow and the overall maintenance of this filter falls below eheim's and Rena's. The claim from one website (I forgot where) says it is a combination of the two brands. I find that the 106 series can generate water flow more than it's proclaimed (for 25 Gals), the water flow was more than enough for my 20 gal. I chose the 106 over the other two brands for its performance. The Eheim and Xp3s were also on sale and were actually cheaper than this guy, but I really wanted to see if the 106 series have improved. What ultimately led me to finally purchase this product are the mechanical filtration part (compact and effective), the ease of changing the medias, and the aquastop feature (which allows "one to stop water flow without disconnecting hose, which eliminates leaks and messes"). The mechanical filtration allows water to flow on the dorsal (not sure if this is the right word to use here) side of the sponge, I think it forces the water through more fibers than the other ones. If anything I have the rena microfiltration sponge in there as well, I kind of liked the part of microfiltration - just sounds good. Finally, a really great product, I just hope it won't die on me anytime soon.
I'll keep updates when I get more filtermedia, and will post if any problems occur. Might do some videos when I clean my tank some more, kind of messy.