Discussion Starter
•
#1
•
Below are a few pictures of some of my
Dwarf rainbowfish!
Rainbowfish that are somewhere between 2 to 3 inches!
The first one is new strain but not a new species! praecox have been around for a long time, unfortunately it has been quite inbred and has lost a lot of it's brilliance. Gary Lange went out and did another collection of these in 2007 from Pagai. Gary has in his collection a group of wild caught and I was fortunate in obtaining a mop of eggs from him for which I hatched out close to a hundred of these. There are a number of breeders of the Pagai strain in Alberta now and even though there may be many F2 and now F3 around, they are as nice as this F1 of mine pictured below!
Melanotaenia praecox "Pagai"
...male!...F1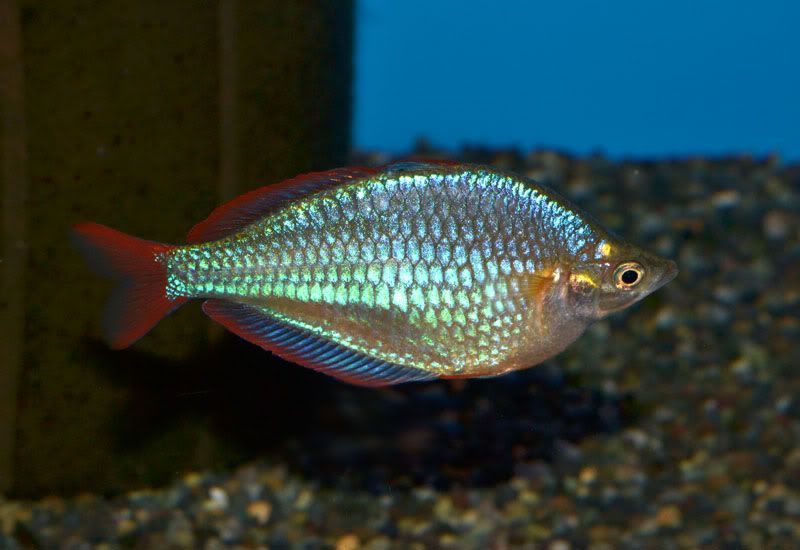 Melanotaenia praecox "Pagai"
...female!...F1
This next one below is relatively new and about the same size of a praecox .....Melanotaenia sexlineata! My wife calls them Sexy Anna's as they have red lips! There has been a couple of collections of this species, from different locations, one from Kiunga and the other from which this one comes from "Tabubil"!
Melanotaenia sexlineata "Tabubil"
Below....another one that has been around for a while but is quite rare, actually I have seen this a number of times in the LFS this year. I do have some concerns as some of the ones I have seen in the LFS have red on the fins and are quite large. They appear to have been crossed and I don't think that they will remain under 3 inches.
Melanotaenia kamaka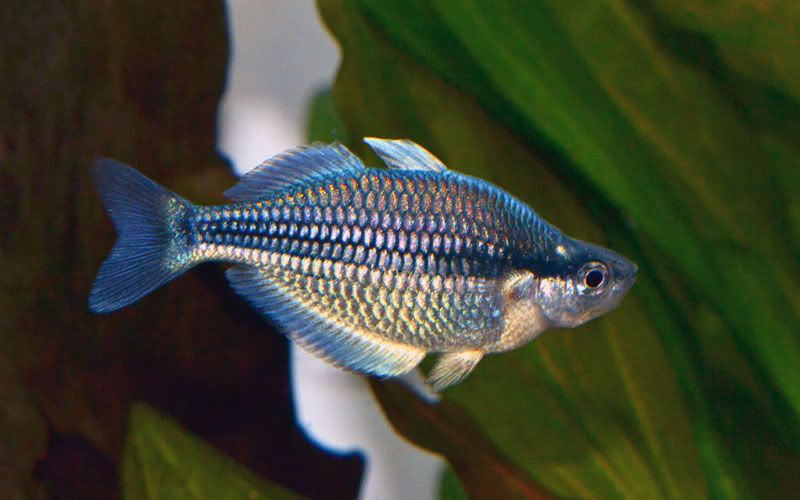 These have been a real hit in Alberta this last year! You may have seen the Melanotaenia maccullochi [Harvey Ck, Russell River] strain for many years but it to has become quite washed out through inbreding. A new strain introduced lately is the Melanotaenia maccullochi [Skull Creek]. I bred out again well over a hundred of these last year and many went to breeders in Alberta. I get inquires about this fish almost every week. It is a little smaller than the praecox, very prolific and fun to breed. Pictures do not do this fish justice. To learn more about it and see all the different pictures of it on the web, google Melanotaenia maccullochi [Skull Creek]
Melanotaenia maccullochi "Skull Creek"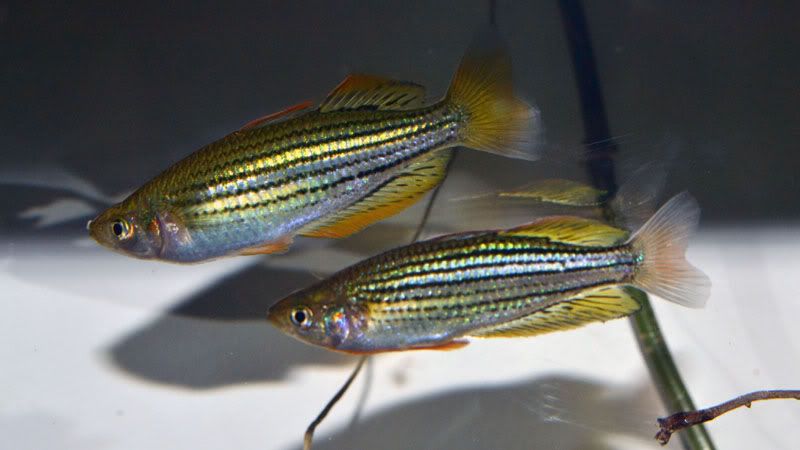 This one is probably the largest of the dwarfs pictured above. It may get up to 3 inches but usually around 2.5 inches. It has been around for many years but was not distributed to a great extent. This fish can really get bright orange, you might almost think it was a saltwater fish!
Melanotaenia parva
" Kent Webster & Gary Lange"
These are just some of the dwarf rainbows available....where you don't need a large tank to keep them in! Never a dull moment in a tank with these high energy little fish!
Hope you enjoyed and I would like to hear which ones you like!
Sincerely
Ric