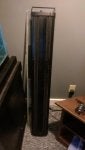 90 Gallon Set up - $375
-
90 Gallon Tank - Standard dimensions. Around 7/10 condition (some scratches on the lower part of the tank).
Stand is a metal stand but is completely wrapped in wood so it looks better. This thing is a BEAST.
Glass lids
Beamswork reefbright LED ***with timer. Has both white and blue lights and settings to use either only white, blue, or both.
AC70
Rena XPXL (newer version of xp4)
Sponge filter + fusion 700 air pump (can pump 2 sponges)
Jager 300W heater
Egg crate for the bottom
Sand/crushed coral substrate
55 Gallon Set up - $175
-
Tank - standard dimensions. Has dual side plastic hood. One of the lights works and the other needs a new balast.
Stand is wood.
Lights (one side needs balast)
AC70
Penguin 350
AqueonPro heater (I believe its 150W)
Aragonite sand substrate
29 Gallon Set up - $30 obo
-
Tank - There's a small chip where the two corner pieces come together but the tank holds water and has held it for over a year.
Lid
Light
Heater (it's either 100 or 150w)
**There's no filter for this tank
Miscellaneous
Driftwood. Approximately 12" in length - $15
Safety Siphon with pump (This is a homemade but better version of a python. It uses MUCH less water). The hose is either 40 or 50' long. Comes with sink attachments. - $40
I'm in no rush to sell and currently will not part out the tanks.