Hello everyone,
I am saving up for a larger tank so I am selling off my ADA 60P tank and stand, along with a filter, a heater, and a partially working paintball CO2 system.
Everything except the paintball CO2 regulator is in good working condition.
You can see the tank journal for this tank
here.
I would prefer to sell the tank and stand together for $160. But I'm willing to separate them now!
- ADA 60P Cube Garden (60cm x 36cm x 30cm), used for about 16 months, great condition. - $120
- Reinforced Ikea Besta Stand with 6" riser box. The door has a cut out in it, so you may want to pick up a replacement door. - $50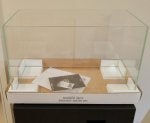 I am also selling the items below
- Aquaclear AC50 HOB filter - SOLD
- Eheim Jager 50W Heater - SOLD
- Guardian 20oz CO2 paintball tank with a leaking Aquatek C02 regulator-solenoid-needle valve combo - $30 (I believe there is a slow leak where one of the pressure gages screws in. Due to this, I am selling this for the cost of the paintball tank alone) --SOLD