I've decided that for my needs the fluval edge just doesn't work, so i've decided to sell it.
The lights on it don't work, but it comes with an ac mini filter and heater heater. Eco complete substrate complete with trumpet snails. LOL Or you can use your own.
It is currently set up and cycled. Nothing else is included.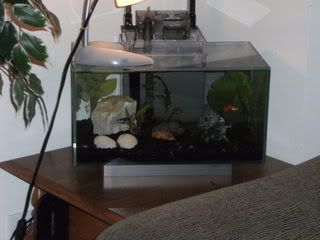 The lid is in fair condition. Still holds it's shape and looks good, but it has a small patch of rust that shows through lightly and has some scratches.