1. Marina 360 2.65 Gallon/10L plastic tank. Come with original box.
Used for few months come with filter media(However dirty due to the substrate.) $ 40
2. Fluval C4 BOP filter. $65
Brand new in box sealed.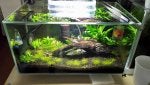 3. Fluval Edge 6 gallon. $80 (tank and original filter with media.) Come with original box.
It come with the 42 led (for the 12G edge.) and original 21 led. I am using it as shrimp tank which may takes few days to transfer the shrimps and plants.
Since I don't have car, pick up only. (Near by Metrotown.)