Discussion Starter
·
#1
·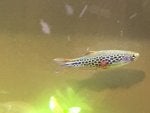 This is my khyatit danio. He was fine yesterday, and now he has this big red spot on the one side, and a smaller, fainter one just opposite on his other side.
The spot does not seem raised.
I did a water change yesterday.
Water parameters stable:
Ammonia and nitrites at 0, nitrates at 10, pH 7, GH 120, KH 40.
Did he perhaps get stuck somewhere? Not much in the tank to get stuck on but I do have one piece of driftwood on the ground.
All his buddies are fine, including 3 other danios.
This tank is in front of my kitchen table so I'm hoping for a quick resolution, but I'm worried because the red spot is quite large.
Any tips?
Thanks