Discussion Starter
·
#1
·
Living in a one bedroom apartment keeping more than one fish tank is a challenge. Managing that, and keeping the wife happy is even more so
. About a year ago I was only keeping a 37g planted aquarium, but decided I needed more aquariums to be able to selectively breed the line of endlers I was keeping. Since, I've added 4 nanotanks (2.5g) and just recently I added a 55g. The room is now at its limit!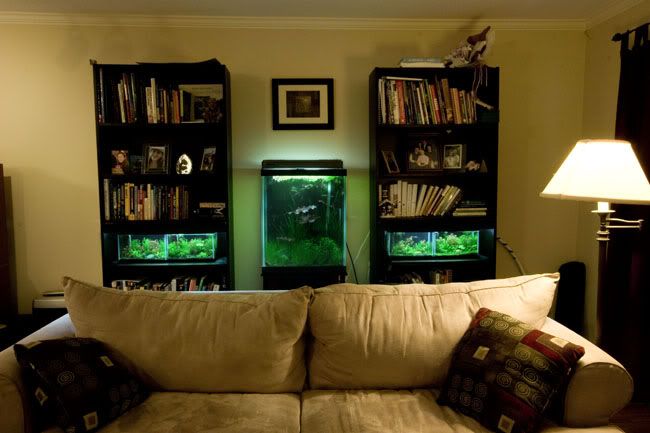 I thought the two bookcases on either side of the 37g tank would be sufficient to hold four nanotank that would suit that purpose. I figured they should be planted as well, to keep them "attractive", so I installed T5Ho's under the upper shelves. They aren't CO2 injected so I decided to give the excel technique combined with EI dosing a whirl. Some plants do fine and others don't. If something doesn't work I just move on to another. All of the plants in the pics are doing just fine.

The 37g is CO2 injected. I keep the female endlers in this tank. I let floating plants propagate for my nanotanks, which provide a comfortable habitat for the endler fry.
The 55g is a low-tech setup. I just keep the vals and anubias here. I keep the male endlers in here now along with some other community fish.
This is the line of endlers I'm working on: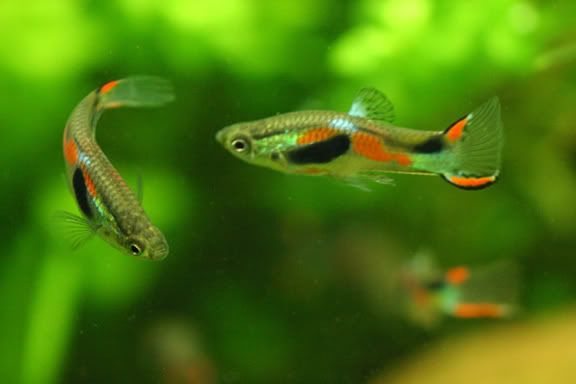 Thanks for looking!