My tanks are finally to the point I'm satisfied with them so I thought I'd do one of these
.
My tanks are all low tech and low/medium light. I have avoided CO2 partly due to cost and partly due to the need for me to have a low maintenance tank that can survive up to 3 weeks of "neglect" at a time. I am away once or twice a year for around 3 weeks at a time so "occasionally protracted" low maintenance was a must. I do dose ferts after ever water change, usually once a week, and excel somewhat regularly.
12G Edge
First up is my 12g edge. I have had this tank for about 8 months, after an emergency upgrade situation where my son decided it was a good idea to introduce his heavy glass toy car to the tank inhabitants. It was one day before a 3 week trip but thankfully I came home with no loss of aquatic life. Whew. Did a rescape about 3 months ago and started really getting into planted tanks and aquascaping.
Initial tank in April, 2017 - a little embarrassed to post this
The castle was my son's addition to the tank.
View attachment 163537
Then
View attachment 163545
Final before rescape, around July
Right after rescape in Sept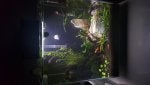 Currently (Nov 17)