33g build ideas for someone who's been out of the aquarium game for a while.
This is what I've put together so far for equipment:
-33 gallon 36x12x18
-Current USA Freshwater Satellite LED Plus PRO - 36-48" 45 Watts*
-Fluval G3 Premium Filtration System*
-Hydor 300 Watt External Thermal Heater
-Hydor Smart Level Control - Auto Top Off*
-Eheim Compact Pump 300 - 80 GPH*
-Caribsea Tahitian Moon Black Sand - 60 pounds
-Seachem Flourish Tabs
-Seachem Purigen
-Seachem Matrix Bio Media
-Tetra Aquasafe Plus
Close to the look I'm shooting for.
Stocking(not sure if this is realistic, just picked out some colourful fish).
Fancy guppy - 10
Endlers - 3
Scarlet badis - 1
Killifish - 2
Celestial pearl danio - 5
Pygmy cory - 5
Panda garra - 1
German blue ram - 2
Red cherry shrimp - 10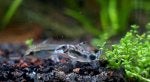 A school of pygmy's is one idea I'm liking for a twist on the clean up crew. And I'll go with black sand for them.
Not sure about plants yet.