Discussion Starter
•
#1
•
I've kept a journal here for each of my tanks, so I'll continue with the tradition.
This is my second attempt at freshwater shrimp. The first one wasn't very successful, but I've learned a few things and hopefully this works better. The tank is a Fluval Studio 600 that I bought about a year ago but only set up recently. It sat empty in my living room for a few months and I actually had it up for sale for a couple of months in the summer, and then I decided to set it up in my 9 year old son's bedroom. We had initially planned for shrimp and a few small fish, but after starting it with a few shrimp, my son decided that he didn't want to take the risk of mixing in fish, so we settled for a shrimp-only tank. A lot of space for hopefully a lot of shrimp!
The Fluval Studio comes with T5H0 lighting and a Fluval 205 filter, but I'm not using those. I'm using LED lighting instead, and a 2073, that I had kept from a previous tank. And also a Digital Aquatics controller. It makes for a nice little setup for a 9 years old.
On with the pics. The scape is trying to use the height of the tank. It works nicely in the sense that the shrimp seem to love hanging out on the manzy branches and in the plants. So there's action at all levels of the water column.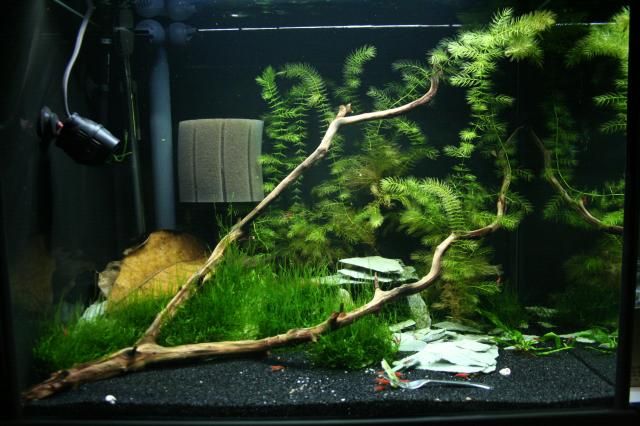 Under the hood:
Shrimp-wise, I started with a bunch of cherries generously donated by Gary (THANKS GARY
). They have started to multiply and I can count at least a dozen shrimplets already, and about 5 heavily berried females. And last week I decided to increase the gene pool and I added some fire reds from EbiKen (THANKS FRANK
). The plan is to eventually add some fancy caridina depending on what I can find. But there's no rush.
They like zucchini...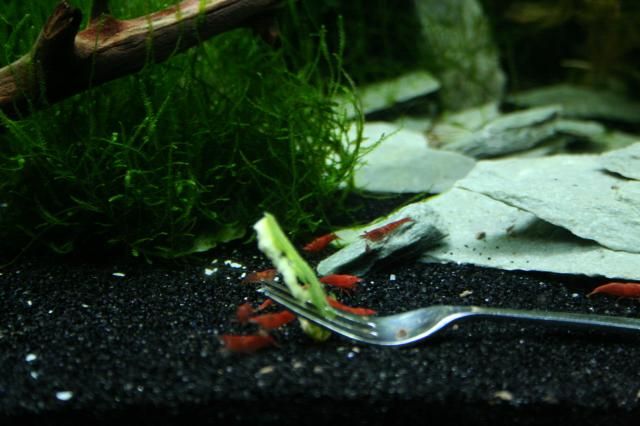 One of the berried cherries: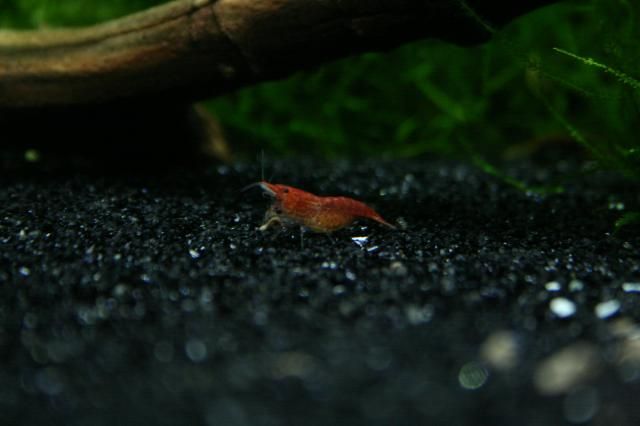 That's it for now. Hopefully everything goes well and the colony grows...